Best Ice Cream in Sedona
Summer days can get very hot in Sedona. Fortunately, there's a variety of delectable ice cream destinations in town, like Sabrina's Ice Cream for gourmet cups and cones along with gourmet coffee and light bites. Located near downtown, it's the perfect pit stop if you're craving something sweet and cool while on your Sedona getaway.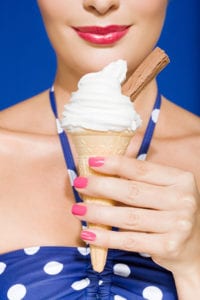 Black Cow Café is where ice cream, coffee, and sundaes are king. Try the waffle bowl or the special thick shakes just like grandma made. The Black Cow, root beer with homemade vanilla ice cream, is the namesake for a reason. Malted milk, banana splits, and specialty sundaes like the Caramel Snicker Sundae are sure to delight.
How Many Scoops?
Walter's Ice Cream and Hot Dogs specializes in two American favorites. Featuring incredible views of Sedona to go with the all-American dishes, you'll want to try the Chicago Dog, followed by a two-scoop dish of the strawberry with generous pieces of berries and rich flavors.
There's also Dairy Queen and Coldstone Creamery in Sedona, so if you're after some comfort food like a Blizzard or the fillings you like, your favorite treat is never far away. Keep cool in Sedona—it's pretty easy with these creamy choices!